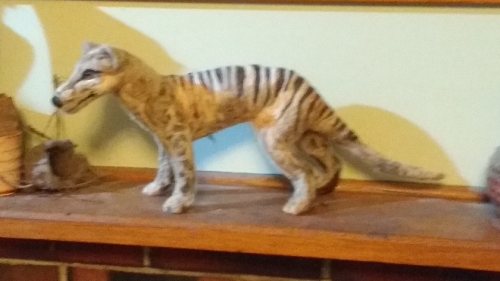 Grant Molyneux was kind enough to send us an email all the way from Australia of his dry-felted project using our eyes. It's a Thylacine, also known as a Tasmanian Tiger or a Tasmanian wolf, and it's wonderful!
The eyes he used appear to be the 6mm Translucent orange eyes he ordered from us in April. We've seen plenty of projects using 6mm eyes, but thisis the first time we've seen them used on a Thylacine. The detail and the coloring are amazing.
Felting is a crafting medium that is easy to learn, but not so easy to do this well. Felt crafts can produce results that vary from basic puff-ball critters to very realistic projects with life-like details and poses. Even though you are working primarily with wool, projects like the one Grant produced is more like sculpture in the round and require a lot of attention to proportion.
One word of caution, though. The eyes and noses are glued into place for most felting crafts. Even if they are locked into place the material itself would not provide much support. This makes them relatively easy for people at risk of removing and accidentally ingesting them to do exactly that. While we can't imagine a finished project such as Grant's Thylacine being used as a toy for a small child, plenty of felting projects exist that produce results a small child would find very attractive. Don't permit anyone at risk of ingesting the eyes or noses to handle or play with your felting crafts.
The last known living Thylacine died in the 1930's, but persistent sightings continue to challenge the belief they are extinct. These fascinating animals look a bit like a cross between a tiger and a fox but are actually marsupials--pouch bearing animals like a kangaroo. Hopefully they still exist out there and are waiting to be rediscovered.