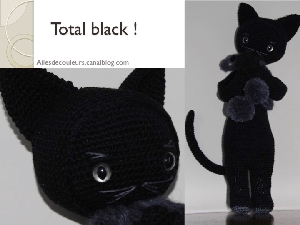 On the ailes de Couleurs (Wings of Colors) blog Magda posted this lovely black cat in April 2017 with the proud declaration that black is back. Although we must rely on translations to read the French language post, we certainly recognize those brushed silver cat eyes that Magda graciously refers to as a "marvel of 6060eyes."
She posts that she loves this black cat and wants it for herself, but please don't say it out loud because her gray cat was on her lap as she posted and might hear you.
We certainly understand jealous cats; sometimes it feels like we are surrounded by an ocean of cats here who seem to think they live in our yard!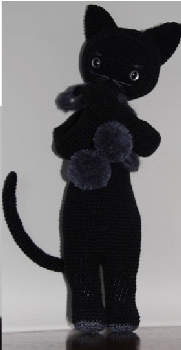 Her blog has some very cute and interesting creations which may be purchased on the Ailes de Couleurs (Wings of Color) Etsy store as finished pieces. We very much like the hedgehog who comes in both white and gray.
The Etsy store is run by Maria, who advises that the pieces they offer are purely decorative and not intended for use as toys.