Marie Guibert Matt is a French craft artist and author of at least 4 crafting books (all written in French) available on Amazon. She was kind enough to recommend our sister Etsy store as a source for eyes to readers of her blog, Mesperluettem.com. Her books cover a variety of crafting subjects including elastic bands, ironing beads (perler beads), polymer clay figures and, of course, crochet. (links are to the French Amazon site. Prices are in Euros)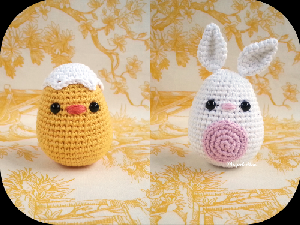 Usually we see bloggers recommend our eyes in connection with a specific project. However, in a 2014 post on her blog where she reveals some of her sources for materials, Marie referred to us as a "paradise" for eyes . We, who just discovered we work in paradise, definitely want to return the favor and recommend her blog! Marie's blog is filled with lots of cute projects including these adorable Easter decorations. The instructions are on her blog in French, but translate clearly enough so that we feel most anyone could follow them even if they don't speak the language.
When she posted her comment 6060eyes was just one of relatively few online sources offering a large selection of stock and hand-painted eyes in smaller quantities. Marie's comments reflect her appreciation of the selection and quality 6060eyes offers even while acknowledging the risks international buyers take with lost or damaged packages and delays in delivery. After weathering a flood of cheaply made and inferior quality eyes in the market and absorbing the brunt of a ridiculously unfair US postage increase, we are humbled by the loyalty of our international customers. We very, very much appreciate their business.

If you'd like to brush up on your French while learning some new crafting ideas her books are still available on Amazon. Just search for Marie Guibert Matt or visit her blog Mesperluettem.com to see what she's been up to.