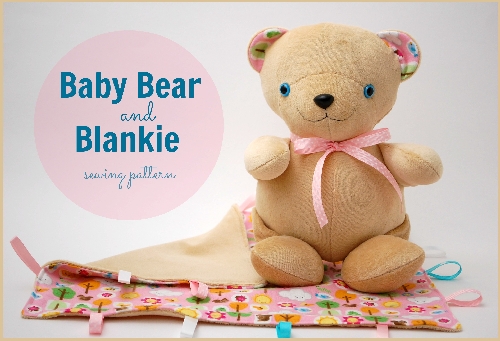 Abby Glassenberg is a successful pattern designer, author and blogger. Her blog whileshenaps.com includes not only her designs but insights and experstise on running a successful blog and online business. Among the many projects on her site we found one from her 2013 archives for a Baby Bear and Blankie pattern where Abby linked to our Esty store as a source for eyes. She chose factory color blue eyes and a black triangular safety nose for her bear as pictured on her blog (also at left). The pattern is for sale on Etsy. If you check out
Abby's Baby Bear and Blankie set pattern on Etsy you'll see variations pictured that use different safety eyes and noses or stitched features instead of safety eyes and noses, which conveniently brings up a good topic: choosing the right eyes and nose for your project.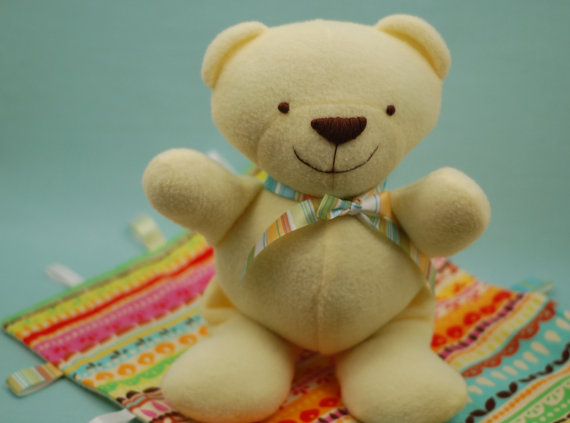 Abby's Baby Bear is a good example of how varying the eye and nose sizes can change the entire look and feel of the project. In her blog post she uses larger blue safety eyes and a hard plastic triangular nose, but her Etsy pattern listing shows the same bear with much smaller stitched eyes and a larger stitched nose. The velour version shows what appears to be small black safety eyes and a smaller stitched nose combination. By varying the material choice, eye and nose styles she produces bears with distinctive personalities from the same pattern.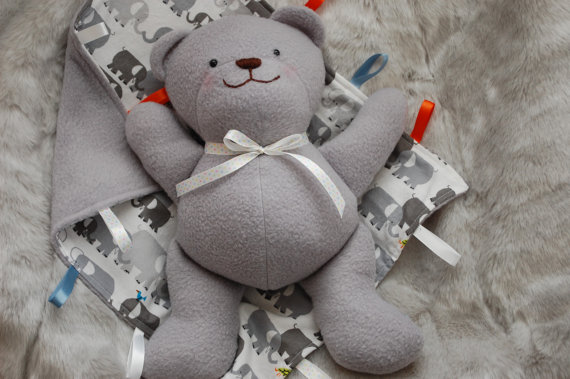 Look at how each eye/nose combination affects the personality of her bear. Larger eyes tend to be more inviting and evoke a sense of wonder while smaller eyes are very cute and more cuddly. The larger nose looks more friendly and playful while a smaller one produces a sweeter face. While 6060eyes eyes and noses are tested to meet product safety standards so small children should not be able to pull them off, choosing a stitched nose over a hard plastic nose makes perfect sense for a bear that will see a lot of play time with small children. Little ones often bite, chew or tug on harder objects that feel alien on an otherwise totally soft toy. While the eyes are designed to resist and withstand attempts to remove them, they can still be damaged if the toy is stepped on or caught in a closet door or toybox lid. Cracked or damaged safety eyes and noses can come loose later and be ingested. Using stitches avoids this risk. If you still prefer safety eyes and noses, be sure to periodically inspect the toys for damage before turning them over to the little ones for play.
Projects designed for less play time or for decoration and show pieces may benefit from a unique pair of eyes and the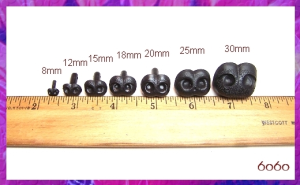 durability of a hard plastic nose. A bear's nose is often a high point that sees more wear and tear over the years than other parts. A plastic nose acts like a guard protecting it. 6060 eyes offers two styles of plastic noses that work well for bears. Our triangle noses come in seven different sizes in brown, black, flesh and pink, depending on the size. Our popular bear/dog noses are somewhat more realistic and come in 8 different sizes, all black. We think we have a pretty nice selection of unique eyes available too and we're always working on new designs.