6060eyes is Your Source for High Quality Safety Eyes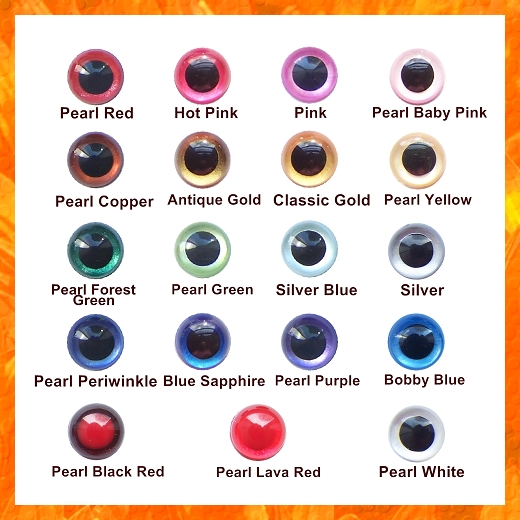 We specialize in high quality factory stock and hand-painted safety eyes, superior selection, fast shipping, and a great customer experience. 6060eyes is the sister site to 6060eyes.etsy.com, a top Etsy seller for over 10 years. Your hand-painted eyes are painted to order and shipped fast.
Located in the USA, our wide selection of stock safety eyes in round, oval, cat, owl and frog styles are perfect for amigurumi, stuffed toys, teddy bears, plush toys, fishing lures, carvings, puppets and more.
In addition to safety eyes, we offer many craft eyes such as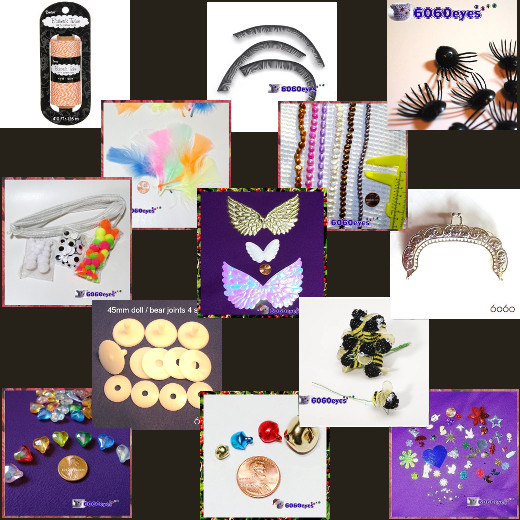 google eyes, sew-on eyes, and printed eyes here for your lovely hand made creations. We also have craft supplies such as purse frames, potato pearls, buttons, animal joints, doll and puppet craft eyelashes, carrot noses and some listings not found on our Etsy.com shop. We hope you enjoy shopping here!
---
Cat Eyes or Round Eyes?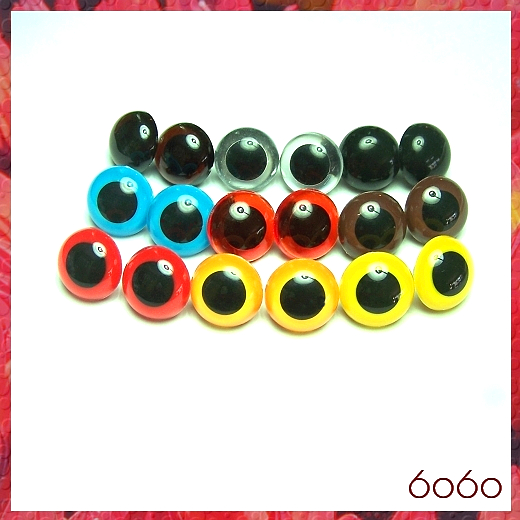 6060eyes has website sections devoted to Cat Eyes and Round Eyes. Each one has unique hand painted designs and factory colors, yet as you browse the site you'll find that most of our hand painted designs and color options are available in both types of eyes. There are some exceptions, however, such as the transparent painted cat eyes (below), which are only available as cat eyes, and our spider eyes, or starfall eyes, which only come in round eyes. We originally divided the site to accomodate the designs unique to one type of eye, but since so many of the designs apply to both types that distinction is almost misleading. We hope you will browse both sections while searching for that perfect match for your special creations.
What's New?
We've been loading a few new designs on the site over the past few weeks. Our new transparent hand painted cat eyes are a little different from our other hand painted cat eyes. They are pre-colored at the factory with transparent tones of amber, yellow, green and blue. We've added bright backgrounds that shine through the factory colors giving the eyes a warm inner glow. Unfortunately the effect does not photograph well. These eyes are much prettier in life than in the photos.
Speaking of cat eyes, we've added some handsome metallic blue emerald cat eyes that feature sapphire blue mixed with fine jade green streaks and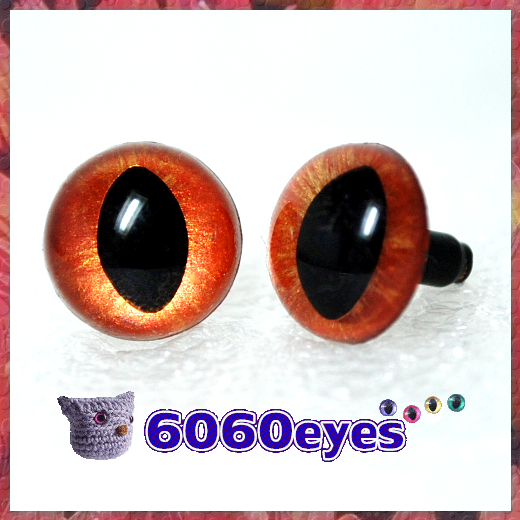 some copper-gold cat eyes that have a copper background streaked with bright gold highlights. They look amazing in the light. Turn them one way and they look like copper. Turn them another way and they seem to be gold.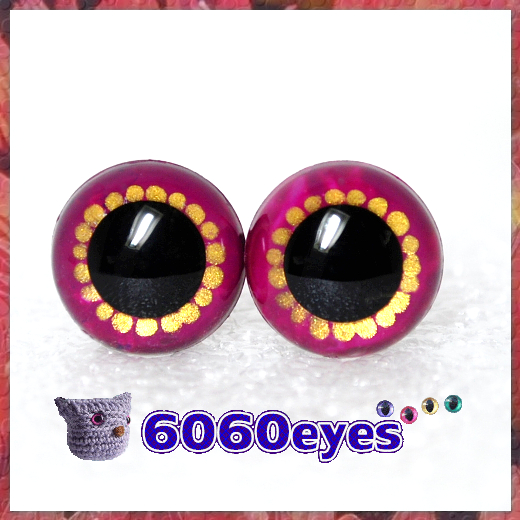 A whole new section called "beady eyes" was added to the site in conjunction with the June 15-15 sale. Beady eyes have painted beads of color around the center. This simple design offers so many possibilities for color combinations we know it's impossible to offer them all. Perhaps you can help.
Do you have a design or color combination in mind that we don't already offer? Let us know what you want and we'll try to accomodate your request. You may also suggest alternative color combinations for our current designs that better fit your needs. Just let us know what you need and we'll do our best to deliver.
---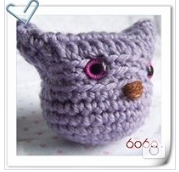 Our website includes a blog feature that we've been playing with as a way to highlight projects some of our customers have produced. We are honored to be a recommended source of eyes for many talented pattern designers. We love to see how our eyes are put to use--especially the hand painted ones. Most of the blog posts are highlights of posts from our facebook page. Stop by and let us know what you've been creating.
6060eyes